Download Your FREE Self-Nurturing Starter Kit Today!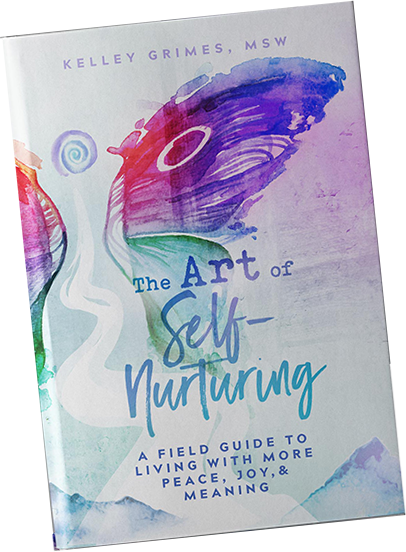 Your supportive starter kit includes:
The Arrival Technique Guided Meditation (mp3)

Permission to Nurture Yourself Audio Guide (mp3)

Beautiful printable Self-Nurturing Affirmations Poster (PDF)

Soothing printable Self-Nurturing Breathe Cards (PDF)

Printable Self-Nurturing Permission Slip (PDF)
Say yes to yourself and claim your Self-Nurturing Starter Kit today!
REGISTER BELOW TO RECEIVE YOUR FREE SELF-NURTURING STARTER KIT TODAY!
To receive your gift, please watch for the confirmation email that you must click so we can send your supportive gift.
ABOUT The Art of Self-Nurturing:
Begin the adventure of a lifetime by nurturing the most important relationship you will ever have—the relationship with yourself!
The Art of Self-Nurturing was written to empower you to become the artist of your own life and see self-nurturing as an art form. Rather than living from obligation and overwhelm, you will learn to cultivate a life filled with self-compassion and self-love.
The practice of self-nurturing is not about being perfect or completing another thing on your "to-do" list, but rather nurturing a relationship with yourself. It is about recognizing what is nurturing in any given moment and allowing your practice to evolve accordingly. The more we nurture ourselves, the more we know ourselves allowing us to reveal more of who we are in the world.
This field guide is designed to make your journey easier and to support you by breaking down the process into three parts: The Foundation of Self-Nurturing, Cultivating a Self-Nurturing Practice, and Integrating Self-Nurturing Practices into Your Life.
Each section is broken into chapters and provides inspiration, best practices, examples, reflective questions, and self-nurturing practices to support you on your journey.
Kelley Grimes, MSW, is an empowering counselor, self-nurturing expert, sought-after speaker, best-selling author, expert columnist for Aspire Magazine, and an Expert Instructor for InspiredLivingUniversity.com. She is the founder of Cultivating Peace and Joy inspiring individuals to nurture peace in the world from the inside out.
Kelley is passionate about empowering overwhelmed and exhausted individuals to live with more peace, joy, and meaning through the practice of self-nurturing.  She loves working with individuals, couples, and families in person and virtually to transform their lives.
In addition, she provides professional and leadership development to organizations dedicated to making the world a better place. As a dynamic keynote and workshop presenter she has been invited to present at these inspiring organizations:  Alliance For Regional Solutions, Carlsbad Village Yoga, The Epilepsy Foundation, Exodus Recovery Inc., Girls Rising, Hands of Peace, MAAC, Nordson Corporation, Regional Center, ResCare, Vista Community Clinic, and hospitals, community colleges, universities, and school districts throughout San Diego County on a variety of topics including self-nurturing, stress management, mindfulness, trauma informed care, cultivating resilience, motivational interviewing, avoiding burnout, and staying grounded in uncertain times.
She also teaches self-nurturing practices and strategies to women overcoming domestic violence, homelessness, and other major life challenges for Leap to Success where she serves as the Director of Community Engagement, instructor and leadership coach. Kelley is also a field instructor for San Diego State University where she loves supervising and mentoring Master of Social Work interns.
She is honored to have been awarded the Graduate "Above and Beyond" Field Instructor Award from San Diego State University and the "Olive Branch" Award from Hands of Peace.
Founded in 2010 by Inspirista, Sacred Visibility Catalyst, Mindset Mojo Mentor™, radio show host, and Aspire Magazine Publisher Linda Joy, Inspired Living Publishing, LLC. (ILP) is an international best-selling inspirational boutique hybrid publishing company.  ILP is dedicated to publishing books for women and by women and to spreading a message of love, positivity, feminine wisdom, and self-empowerment to women of all ages, backgrounds, and life paths.
Inspired Living Publishing works with mission-driven female entrepreneurs—heart-centered, mission-driven, coaches, therapists, service providers and health practitioners in the personal and spiritual development genres, to bring their message and mission to life and to the world.  ILP publishes, markets and launches select manuscripts by visionary female authors whose messages are aligned with ILP's philosophy of inspiration, authenticity, empowerment, and personal transformation.
Previous best-selling releases include Everything Is Going to Be Okay: From the Projects to Harvard to Freedom by Dr. Catherine Hayes, CPCC; Awakening to Life: Your Sacred Guide to Consciously Creating a Life of Purpose, Magic, and Miracles by Patricia Young; the award-winning Being Love: How Loving Yourself Creates Ripples of Transformation in Your Relationships and the World and Soul-Hearted Living™: A Year of Sacred Reflections & Affirmations for Women by Dr. Debra L. Reble; and the multiple award-winning The Art of Inspiration: An Editor's Guide to Writing Powerful, Effective Inspirational & Personal Development Books, by Bryna Haynes.